Bayer's
$66bn takeover of Monsanto called a 'marriage made in hell' – Vermont senator Bernie Sanders leads outcry over merger, saying deal is 'a threat to all Americans' and should be blocked by regulators.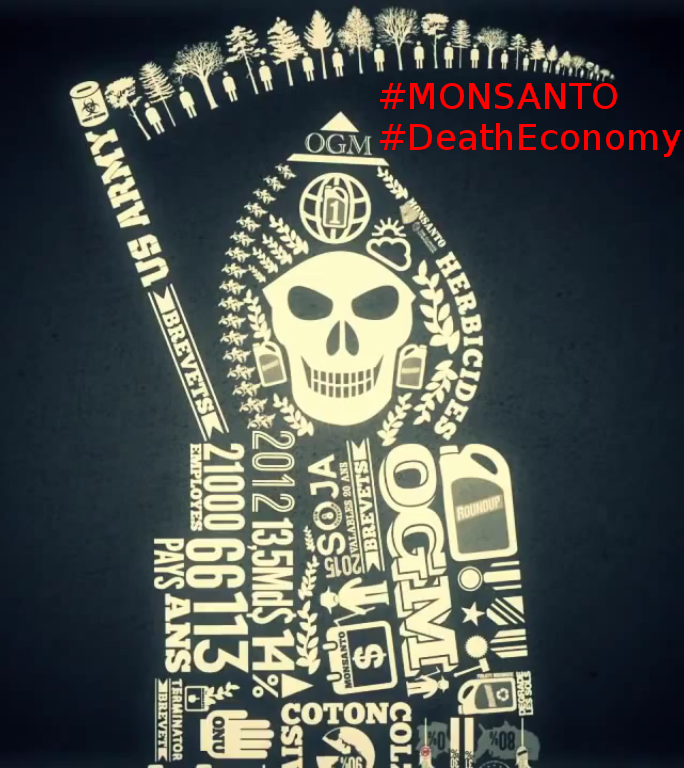 After Glyphosat was labeled "potentially cancer causing" by International Agency for Research on Cancer (part of the World Health Organization of the United Nations) – it is still in use in Europe.
Because of massive protests from the public (!!! THANKS !!!) it was NOT legalized for 14 more years, also not for 7 more years, no, it was only legalized for only 18 more months by the EU-comission.
Is this just a tactic to wait until the attention of the public has shifted and then legalize it for a longer term?
We will see. Stay focused 🙂
Who are the companies behind that Taskforce?
And: What will be the Aim of the Task of that Force?
The European Glyphosate Taskforce:
The European Glyphosate Task Force (GTF) is a consortium (a lobby group) of companies joining resources and efforts in order to

renew
the European glyphosate registration with a joint submission.
in other words: All those listed companies make money with Roundup = Glyphosat and WANT TO CONTINUE THAT BUSINESS MODEL OF DEATH AND EVIL.
This consortium is not to be considered a legal entity.
To contact the Task Force please send an email to GTF
-> THEY LOVE TO SELL OTHER CARCINOGENIC STUFF AS WELL.
http://www.adama.com/deutschland/de/termine-produkte-news/aktuelle-empfehlungen.html
LIKE: http://www.adama.com/deutschland/de/aktuelle-empfehlungen/herbizid/bengala.html
which contains: https://de.wikipedia.org/wiki/Metazachlor
which is listed here: https://de.wikipedia.org/wiki/Kategorie:Stoff_mit_Verdacht_auf_krebserzeugende_Wirkung
• Agria S.A.
• Albaugh UK Limited
• Arysta Lifesciences SAS
• Barclay Chemicals (Manufacturing) Ltd.
• Brokden SL
• Bros Spolka Jawna B. P. Miranowscy
• Cheminova A/S
• Coromandel International Limited
• EXCEL CROP CARE(Europe) NV
• Helm AG
• Industrias Afrasa S.A.
• Monsanto Europe S.A./N.V.
• Nufarm GmbH & Co KG
• Rotam Agrochemical Europe Limited
• Sapec Agro S.A.
• Sinon Corporation
• Société Financière de Pontarlier
• Syngenta Limited
• United Phosphorus Ltd
• Wynca UK Limited
Adress: (expect this to be just a mailbox – nothing more)
Mark Buckingham
Monsanto UK Ltd.
PO Box 663, Cambourne, Cambridge, CB1OLD, UK
Tel: +44 1954 717550 Fax: +44 1954 717579
second: WHO is Behind that UGLY WEBSITE?
whois glyphosatetaskforce.org
Domain Name: GLYPHOSATETASKFORCE.ORG
Domain ID: D159762230-LROR
WHOIS Server: whois.http.net
Referral URL: http://www.http.net
Updated Date: 2016-07-29T01:25:09Z
Creation Date: 2010-07-28T11:35:11Z
Registry Expiry Date: 2017-07-28T11:35:11Z
Sponsoring Registrar: http.net Internet GmbH
Sponsoring Registrar IANA ID: 976
Domain Status: clientTransferProhibited https://icann.org/epp#clientTransferProhibited
Domain Status: autoRenewPeriod https://icann.org/epp#autoRenewPeriod
Registrant ID: HTTP-0B48C58F12D
Registrant Name: Knoell, Hans
Registrant Organization: Dr. Knoell Consult GmbH
Registrant Street: Dynamostr. 19
Registrant City: Mannheim
Registrant State/Province:
Registrant Postal Code: 68165
Registrant Country: DE
Registrant Phone: +49.6217188580
Registrant Email: info@knoellconsult.com
Admin ID: HTTP-0CB37587F61
Admin Name: Knoell, Hans
Admin Organization:
Admin Street: Dynamostr. 19
Admin City: Mannheim
Admin State/Province:
Admin Postal Code: 68165
Admin Country: DE
Admin Phone: +49.6217188580
Admin Phone Ext:
Admin Fax:
Admin Fax Ext:
Admin Email: info@knoellconsult.com -> CAN SOMEONE PLEASE SPAM EM LIKE HECK? THANKS!
Tech ID: HTTP-4CAE1E9E612
https://www.knoellconsult.com/
Main Office:
Dr. Knoell Consult GmbH
Megaron-Komplex
Dynamostr. 19
68165 Mannheim
Deutschland
They have also offices here:
Dr. Knoell Consult GmbH
Zimmerstraße 79/80
10117 Berlin
Deutschland
Dr. Knoell Consult GmbH
Agro Business Park 10
6708 PW Wageningen
Niederlande
Dr. Knoell Consult GmbH
Bioplex-Zentrum
Marie-Curie-Str. 8
51377 Leverkusen
Deutschland
Auswirkungen von Glyphosat auf Erdwürmer:
"We demonstrate, that the surface casting activity of vertically burrowing earthworms (Lumbricus terrestris) almost ceased three weeks after herbicide application, while the activity of soil dwelling earthworms (Aporrectodea caliginosa) was not affected.
Die Vermehrung der Erdwürmer reduzierte sich um 56% innerhalb der nächsten 3 Monaten nach Herbizid Anwendung.
Reproduction of the soil dwellers (earthworms) was reduced by 56% within three months after herbicide application.
Herbicide application led to increased soil concentrations of nitrate by 1592% and phosphate by 127%, pointing to potential risks for nutrient leaching into streams, lakes, or groundwater aquifers.
These sizeable herbicide-induced impacts on agroecosystems are particularly worrisome because these herbicides have been globally used for decades."
src: http://www.nature.com/articles/srep12886
"The first trial on whether the world's most widely used herbicide causes cancer came to an explosive ending Friday — a San Francisco jury's award of $289 million in damages to a man diagnosed with a lethal illness while spraying school grounds with a weed-killer manufactured by Monsanto Co."
src: https://www.sfgate.com/news/article/Monsanto-case-Bay-Area-man-with-cancer-awarded-13147891.php#photo-843284